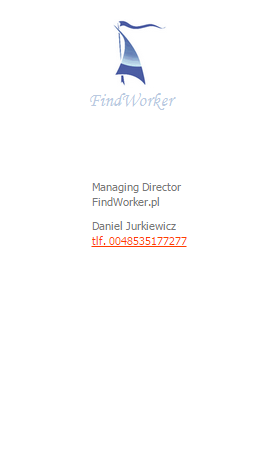 Findworker.pl is portal owned by Daniel Jurkiewicz, providing skilled workers to European shipyards and construction companies. The website itself presents job offers within given branches, which helps company to recruit qualified workers to European customers. Frequently provides workers to companies in Denmark, Netherlands, Norway.
Daniel Jurkiewicz is working for Scandinavian customers that focus on quality works and possesing top workers from labour market. He specilizes in selecting and recruiting shipyard manual workers such as welders and pipe-fitters. In years 2013-2015 worked in various recruiting projects to send people to shipyards in Denmark: Fayard A/S, Søby Værft A/S, Skagen – shipyard cleaners, fireguards, painters, fitters, welders."
Currently offering job offers in Denmark and Norway, also in construction companies (insulation fitters, painters). More about cooperation: read here.